Communicate earlier with your baby.
Research shows that babies can communicate with their parents, siblings, and caregivers earlier when exposed to sign language on a consistent basis.
Sign language is a gross motor skill whereas speech is a fine motor skill. We model to parents common signs needed with babies (e.g.: milk, food, daddy, mommy, come, play, bathe, sleep, etc.) and present pre-literacy skills using books that incorporate sign language.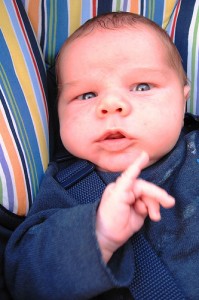 Research shows that children exposed to multiple languages develop more neural pathways in the brain which can aid speech and language development, mathematics and science skills, and increase attention span and hand-to-eye coordination. Some studies show a corollation with increased I.Q.
Baby Sign seminars are $75.00 per family for four sessions and includes a children's book with signs, registration, handouts, and additional web sources. Class set-up is flexible.
Great for preschool classes or Mother's Morning Out Programs.